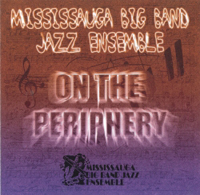 To introduce our new album "On the Periphery", we would like you to listen to a few samples...It's a "live" album and we feel that it captures some of the excitement and adventure of a "live" gig. We think it shows the band at its best.... It was recorded at Arnold's in Mississauga. The event combined swingin' standards and some notable originals. Mixed and mastered by Charlie Gray, it was produced by Rob Boniface and Bruce Cassidy. Special thanks to The City of Mississauga, Culture Division. The CD is available for $15 plus postage - just click here and fill in the Contact form.
Here's a taste of the recordings...
The kickin' opening blues chart called "Steamsville":

The breezy Basie arrangement of "Queen Bee":

The beautiful, rich, sensitive ballad "A Time For Love", featuring the wonderful trombone work of feature soloist Matt White:

A great Bruce Cassidy composition "Melancholia", proving that the band can play "mood music" of a very high order:

"Embraceable You", a delightful Gershwin standard that features our vocalist Catharine McGregor shaping the warm and plaintive melody:
If you want your own copy of the CD, it's yours for $15 plus postage - just contact Rob to arrange.