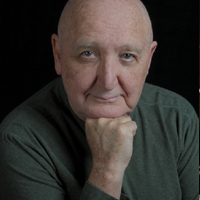 Conductor Bruce Cassidy was born in Fredericton, New Brunswick. He studied arranging and composition at Berklee College with Herb Pomeroy. His trumpet studies were with John Coffey of the Boston Symphony. He was a founding member of Rob McConnell's Boss Brass, appearing on their first seven albums. He recorded and toured with Lighthouse and Dr. Music before joining Blood Sweat and Tears (BS&T) as their musical director. He has composed, recorded and produced music from Los Angeles to South Africa and he is considered the world's leading performer on the Electronic Valve Instrument (EVI). He presently leads Bruce Cassidy's Hotfoot Orchestra, and teaches at Humber College in Toronto.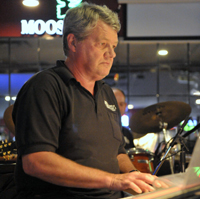 Bandleader Rob Boniface: "It all started in Grade 1 with group lessons on a fold-up cardboard keyboard. I was hooked! The defining moment was when I was 12 years old and began to study jazz piano with "Duke" Martin. The man was a true inspiration and had a profound influence on my musical journey. The teen years saw stints in local bands (Ulysses and North Side Blues Band) but jazz was never far away. A Phil Nimmons arranging course led to a brief period of writing charts for the late great Pete Schofield. The dilemma now became whether to play and write or try to get a career! As always, it was a high school music teacher ( Chris Kitts ) who showed me how much fun it was to teach so... off to McMaster University for 4 years to get a music degree. Taught instrumental & vocal music as well as guitar for 31 years at St. Martin's Secondary School in Mississauga and retired in 2009. For almost 35 years now I have been pursuing my love of big band jazz as leader and keyboard player of The Mississauga Big Band Jazz Ensemble. Thanks for the memories."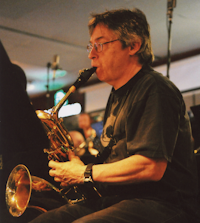 Baritone saxist Wayne Smith: Wayne took up flute and saxophone when he entered high school, which was more than a few years ago. Besides playing in the school bands, he became musical director of his own big band while still in high school. Since then, he has been playing, singing, writing, and arranging music in a dizzying array of styles and combinations, including an eight-year stint playing weddings every Saturday in a Belgian polka band. Wayne holds down the baritone sax chair in MBBJE, and adds the occasional flute solo. Wayne is also a singer/songwriter who performs with his own band under the name Wayne Neon.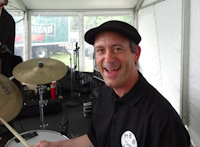 Jay Boehmer: Drummer, composer and band leader, graduated from the Humber College Music Program in 1990 and performs with his jazz group in Toronto and Mississauga. Jay has released two CD's of original compositions: Autumn Afternoon (2007) and Don't Look Back (1999). Jay has performed in over 40 theatre productions and has been recorded on many CD's. Jay has been the drummer of the Mississauga Big Band Jazz Ensemble since 2002. His website - www.jayboehmerjazz.com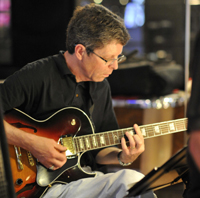 Wayne Ferrell: Over the past eleven years guitarist Wayne Ferrell has played in big bands in Alberta and Mississauga. He has been the guitarist for the Mississauga Big Band Jazz Ensemble since 2003. Wayne is also the bassist for the Toronto-based BroadBelly Band and the Just Us Band. Wayne is a consultant and part-time College/University instructor at Sheridan College and Guelph-Humber University. He holds BA and MBA degrees, as well as PMP (Project Management Professional) certification.