After total domination of the music scene in America in the 1930's & 40's everyone thought big band jazz would last forever. Then came WW II .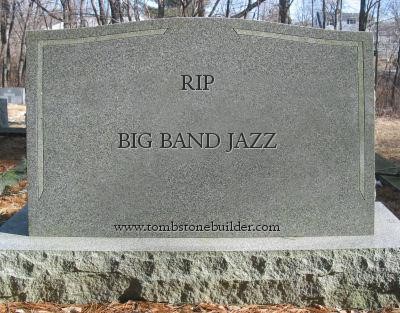 Big bands played a major role in lifting morale during World War II but several factors led to their decline:
Loss of musicians who were overseas fighting
A recording strike against record company royalty restrictions
The rise of bebop as jazz players were seeking a less commercial outlet for their talents
The cost of paying for 15 – 20 musicians
The invention of TV ( keeping people at home ).
And by the early 50's……………………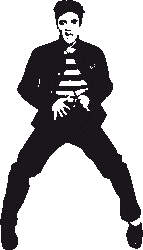 And by the early 60's………………………………………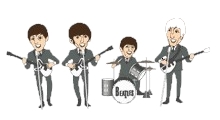 But instead of going away, big band jazz changed! Some of the most famous bands stayed together (Count Basie, Duke Ellington & Stan Kenton) and continued to tour. Instead of dancers, they played for a younger audience of jazz fans. It was more performance oriented and tended to feature longer solos.Other bands took the songs of the era and arranged them for the standard big band instrumentation ( 5 saxes / 4 trumpets / 4 trombones / guitar / bass /drums & piano ). The older bands started recruiting younger players from music schools to fill the roster and bring a new energy to their music.In the 70's, the fusion ( jazz / rock ) movement in jazz made it's way into the big band genre which turned a whole new generation of young rock fans onto big band jazz. Bands like Blood Sweat and Tears ( jazz / rock ) and Chicago ( rock / jazz ) topped the pop charts. Woody Herman (an icon of the swing era) began recruiting college and university level jazz musicians. His "New Thundering Herd" (1959–87 ) had a hit with of all things a big band arrangement of "Light My Fire" by the Doors.
Here are the links to three YouTube clips of big bands performing songs that you would never have expected:
1. Gil Evans Orchestra performing a big band arrangement of "Stone Free" by Jimi Hendrix (1983 )
2.The University of Miami Studio Jazz Band performing a big band arrangement of Radiohead's "Paranoid Android" from 2012
3. The Ed Palermo Big Band in 2015 at Iridium in NYC performing big band arrangements of the music of Frank Zappa
Big band jazz did not go away! Today most high schools, colleges and universities have jazz programs. Although touring is cost prohibrative for a lot of groups, most cities have big bands that perform on a regular basis. Community ( rehearsal ) big bands are providing an outlet for college level students to perform as they try to establish themselves as professional musicians as well as established musicians with a true love of big band jazz . As of this writing, the Glenn Miller Orchestra is on tour and performing his original arrangements from the late 30's and early 40's.
Has Big Band Jazz changed? …………………………………………… YES !
Is it dead ?....................................................... NO !

In the immortal words of Mark Twain, "The reports of my death are greatly exaggerated."
And please remember, "If music isn't LIVE… it's DEAD".